Making a good first impression is one of the best ways to set the tone for a healthy tenant/landlord relationship.
If you can consistently build those kinds of relationships with tenants, you can feel confident knowing you'll be able to keep them living in your properties for a long time. This is important since losing a tenant can be costly for your rental property business.
Ready to learn the best way to make a good first impression on a tenant?
It's all about the welcome package, which is a simple basket or box full of goodies and necessities. This package should be given to a new tenant when they move into your property.
When you give a tenant a welcome package, you show that you genuinely care about making their move as stress-free as possible.
The best part? Welcome packages are cost-effective and easy to put together.
Keep reading, and you'll learn everything you should include in a tenant welcome package (as well as a few other tips to help your tenants feel welcome when they move into your property!).
What to Include in Your New Tenant's Welcome Package
A map of the local area
If your tenants are moving from out of town, they probably don't know much about the area where their new home is located.
To help with this, include a map of the local area in the tenant's welcome package. You may also want to circle or highlight important points on the map, like grocery stores and gyms (like Fitness Together in Howard County!). You could even ask the tenant what kinds of places they'd like convenient access to and use their feedback to create a custom list of nearby attractions they'd be interested in.
Essentials and toiletries
Let's face it – moving can be stressful. If you've ever moved before, you already know that the difficult process can sometimes cause you to forget about the important things you'll need once you get settled.
Your tenants are no different, so consider providing them with essentials and toiletries so they don't have to go to the grocery store after a long day of moving. Here are a few items you could include:
Toilet paper
Paper towels
Cleaning items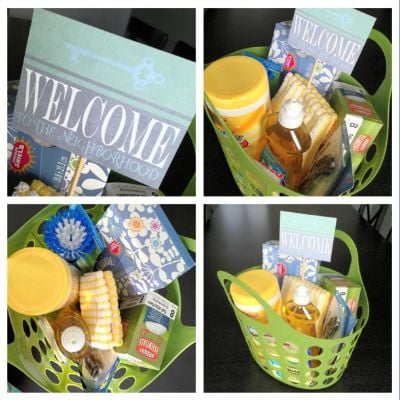 You could also provide some items that will make the tenant's first experience in the property more enjoyable, like a scented candle or a bouquet of flowers. Either of these options is a cost-effective way to give a bit of extra appeal to your welcome package.
Food and drinks
When your tenants are moving into your property, there's a good chance they'll appreciate some snacks to help keep their energy up. They'll also appreciate a refreshing drink, especially when they've been breaking a sweat unloading and unpacking boxes all day.
Here are some drinks and snacks you can consider including in your welcome package:
Cold bottles of water
Lemonade or soda
Trail mix
Candy bars
Chips
If your tenants are over the age of 21, you could also include a bottle of wine or a 6-pack of your favorite local Maryland beer to help them unwind after finishing the moving process!
Gift cards
Everyone loves a good gift card. If you really want to impress your new tenants, ask them about their favorite restaurant before they move in, and give them a gift card to that restaurant in their welcome package.
If you don't have the budget to splurge on a restaurant gift card, you could give tenants a gift card to a local coffee shop (like Matcha Time Café in Howard County!) or home goods store. That way, they can get a cup of coffee or a couple items that will help them spruce up their new home.
A handwritten note
Write a few sentences that tell the tenant how glad you are to have them living in your property. Also, use the note to welcome them to the neighborhood and give them your contact information so they know exactly how to reach you when necessary.
Make sure you personalize the note with the tenant's name and anything else relevant to them specifically – that extra effort to connect with your tenant can go a long way.
A book of coupons
All of the different costs associated with moving can add up fast, so your new tenants may be stressing a bit over their financial situation when they move into your property.
To help ease the financial blow, consider giving them a coupon book. Some local Maryland businesses (like restaurants and retailers) may be willing to give you coupon books for free, so start asking around and see what deals you can find. Often, businesses will be more than willing to give you a coupon packet in the hopes that your tenant will become a loyal customer.
An information packet
This helps your tenants by putting all the information they need in one convenient packet. It also helps you by allowing you to reinforce all of the facts and important points you went over with the tenant when they signed their lease agreement.
Here's what you can include in the packet:
Relevant information about the property, like the address and utility suppliers
A copy of the lease agreement and any other documents containing information you'd like the tenants to have handy
Your contact information and any emergency phone numbers
If you give the tenant all the information they need, there's a good chance they won't contact you with questions as often, which can help you save time and stay more productive while running your rental property business.
More Tips for Welcoming a Tenant to Your Rental Property
Providing a welcome package isn't the only way to make a good first impression on tenants. Here are a few more ideas for you to consider:
Introduce tenants to their new neighbors. Doing so will help your tenants and their neighbors feel safer and more at home. On top of that, troublesome tenants may think twice about doing something illegal or disruptive in your property if they know their neighbors are watching.
Clean the rental property thoroughly before the tenants move in. If you don't have the time to get this done, hire a professional Howard County cleaning company to handle it for you.
Ask new tenants if they have any questions about the area. They'll appreciate your local knowledge and effort to be helpful.
By following the tips above and creating a welcome package full of useful items, you can effectively start your tenant/landlord relationships off on the right foot.
If you don't have time to handle landlord duties like the ones mentioned in this post, consider outsourcing those duties by partnering with a Howard County property management team like Bay Management Group. We can handle tenant screening, maintenance, rent collection, and other aspects of your business so you don't have to.
If you're interested in learning more, contact us today.